Welcome to the Somethingsworld Wiki
this Wiki dedicated to the fanmade Eddsworld AU, Somethingsworld / Laurynsworld.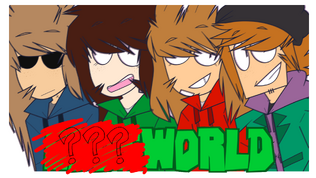 About SW
It all began in the beginning of September 2017; when Lauryn started getting back in touch with Sam on DA, and learned about how she likes Eddsworld. Being new to the fandom, Lauryn talked to her about the show and soon Sam brung up an idea of having an AU that could maybe be created into a cartoon. They liked the idea so much Sam invited her good friend Eyv to be apart of it and Lauryn told Tiggs, now Skyler, about it as well. Soon a discord was created and the show started to grow, gaining so far 9 (10) characters/ voice actors, a couple background voices, and a couple main animators.
As of October 31st, the first episode is on its way and will be Animated/ Story boarded by Zor.
Updates: the script has been altered due to more characters and Zor is restarting the project as of January 11th.
Caution: This wiki is extremely old and doesn't hold that much accurate data anymore, but if your interested to view the early versions of SW characters, feel free to, tho only Lauryn, Sam, and Ellie's pages are the only ones remotely complete
Links
Somethingsworld Youtube channel
Community content is available under
CC-BY-SA
unless otherwise noted.